Waxing Poetic
Bee Brave Charm
#

245908

Made To Order
Waxing Poetic
Bee Brave Charm
#

245908

Made To Order

A glorious twisted sterling silver wire wingspan carries an etched bee with the back side of the pendant reading BEE BRAVE. The body of the bee is teal resin. Pendant is 1-1/4 inch long. Chain seperate.


BEHIND THE DESIGN
Perhaps the design that took the longest for us to create... The wings of this piece were fabricated by hand, twisting thin wire into rows to form the wings, then molded and cast.
Bee Brave is meant to be a reminder of our inner strength through connectedness. Like bees, who work together to do so much, we are part of something larger. We are always braver than we think.
Product Details
| | |
| --- | --- |
| Name | Bee Brave Charm |
| Stock Number | 245908 |
| Type | Gemstone Pendant |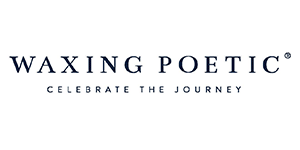 Waxing Poetic jewelry, charms, objects, candles, housewares, and general amusements come to you from Carpinteria, California, by way of designer Patti Pagliei Simpson, her intimate coterie of friends and family (sisters in particular): like-minded artists, dreamers, adventurers, and raconteurs. We make things we love, and hope you like them too.We believe that faith, risk, hope, and joy are inextricably bound, and never mutually exclusive. Adventure and routine are strange, and sometimes lovely, cousins. There is a way to write the lines in between all of us, and in our own small way, we want to make links. If we can make things to share, to pass in between, we can do more than we ever hoped – and then some.Our jewelry is fabricated by an incredible batch of Balinese craftspersons, truly part of our extended 'family'. These incredible people devote themselves and their lives to beauty, both in action and intent. Somehow we were blessed to have them join forces with us. Our Bali artisans are paid several times more than minimum wage, and treated with respect, dignity, and most importantly, gratitude. We work closely with the Bali wing of the WP family in both refining our designs, and ...